COVID-19 Resources
These are challenging times, for children, for parents, for teachers. For all of us. Here are some resources that we think will help right now.
Parenting through COVID-19 with Mary Gordon
Roots of Empathy Founder and President, Mary Gordon, has a series of mental health and well-being videos for parents.
Available in 18 languages, including six Indigenous languages
 For subtitles in Arabic | Bengali | Czech | Dutch | French
German | Korean | Norwegian | Polish | Spanish |
 

Swahili

Click play on the videos below and then hover your cursor on the settings icon (which looks like a gear wheel) on the bottom right of the screen. When you click the icon a menu will pop up which includes Subtitles/CC. Click on the arrow to the right and it will provide a menu of languages to choose from.
Mohawk | Ojibwe | Cree | Inuktitut | Wolastoqey | Mi'kmaq
Mary Gordon on school anxiety
As families prepare to send children back to school, anxiety is at a peak. Children may be anxious and parents definitely are anxious. Mary speaks to parents about the contagion of anxiety and offers guidance on how to reduce anxiety and increase confidence and resilience.
Mary Gordon on talking to your child about racism
The COVID-19 pandemic and the Black Lives Matter protests have made having conversations with your children about the state of the world essential. Mary offers support and understanding that these are difficult, awkward conversations. Parents can help children navigate the challenge and let them know there are ways through this tumultuous time – especially together.
The Roots of Empathy Book Club
Mary Gordon helps with storytime by reading aloud some of her favourites
Faces of Time
Mary Gordon shares her book Faces of Time. It's for younger children who are captivated by the portraits of babies, all of whom come from Métis, First Nations, and Inuit heritage. Each page has one word, in English, Cree Syllabics, Mohawk and Inuktitut. Mary reads the messages that inspired each word.
How the Roots of Empathy babies are doing
parents have been sending in photos and videos of their tiny teachers to update their students on milestones
– from crawling, to teething, to new foods – but mostly because they miss them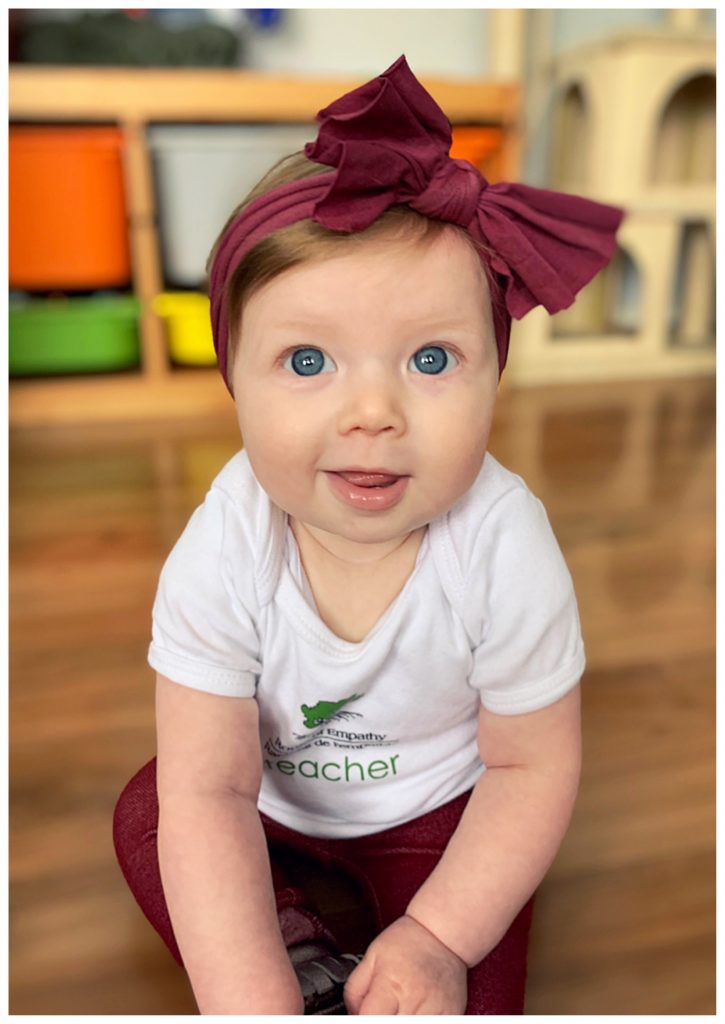 Here's a sample.
An update from Baby Andi's parents:
"We were one of the Roots of Empathy babies in Alberta this school year! Just wanted to share a little update of our "Tiny Teacher" to our friends in Mrs. Gale's Grade One class in Cold Lake, AB!
Andi just turned 7 months old and since our last classroom visit, she has already changed so much.
She is now sleeping in her own room at night, eating lots of different solid foods and loves meal time with her family, she has started to wave hello, and sits up all by herself!
We really miss all our friends from school and hope they are all enjoying this extra time at home with their own families, Andi sure is loving her time home with us!"
What I'll tell my daughter about the year 2020
This will lift your spirits.
Katharine Reid writes a letter to her baby, a Roots of Empathy tiny teacher, describing this extraordinary moment in time as we all stay home. As Katharine writes, social isolation comes with challenges, and yes, joys. Thank you, Katharine, for this beautiful letter in She Does The City Life Stories.
"Hi baby,
Things are a little weird right now. Our world, as we know it, has changed.
You just turned 10 months old, during a global pandemic. We are in social isolation. You will not see your grandparents, cousins or aunts and uncles in person again until you are at least one year old (and probably more). We won't be going to the library, the bakery, the park.
You're walking now and you've had plenty of time to work on your cool new skill while hanging around the house. Your favourite thing to do is walk across the room, arms stretched towards me, and throw yourself into my arms.
You're so good at making people happy. You even have a job doing just that…" read more…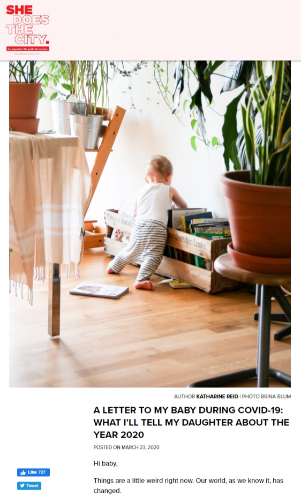 Mary Gordon wrote her book Roots of Empathy – Changing the world child by child to help everyone who cares for children know how important those first years are to a child's health and well-being. It might change your perspective on parenting. You can read the first chapter free. And enjoy. To buy the book, please visit our bookstore.